Did You Know We Have Our PhD In STEM?
You could say we have an honorary degree. We are experts at building STEM thought leadership for the brands we represent and we have an A+ report card to prove it. Check out the reasons why Cone Communications is a leader in STEM marketing and communications:
Cone has a strong reputation as an agency-of-record for many business and nonprofit leaders in STEM and education – Bayer's Making Science Make Sense program, FIRST Robotics, LEGO Education and Lemelson-MIT. Our proven commitment to working with purpose-driven brands makes us an ideal partner for organizations committed to advancing STEM education.
We have our pulse on conferences and thought leadership opportunities to ensure our clients' voices and initiatives are heard amongst their peers. We've helped our clients gain recognition from influencers and community leaders – from media to public officials, and even the White House.
We tell stories that break through — whether it's helping a reporter spotlight a child's invention to combat global warming, to penning thought leadership pieces on best practices for preparing students for college and the ever-growing STEM workforce. We also develop compelling content to inspire teachers to embrace STEM in and outside of the classroom.
If you have a passion for STEM, we'd love to hear from you and talk more about how Cone could partner with you to amplify your efforts. Contact us today.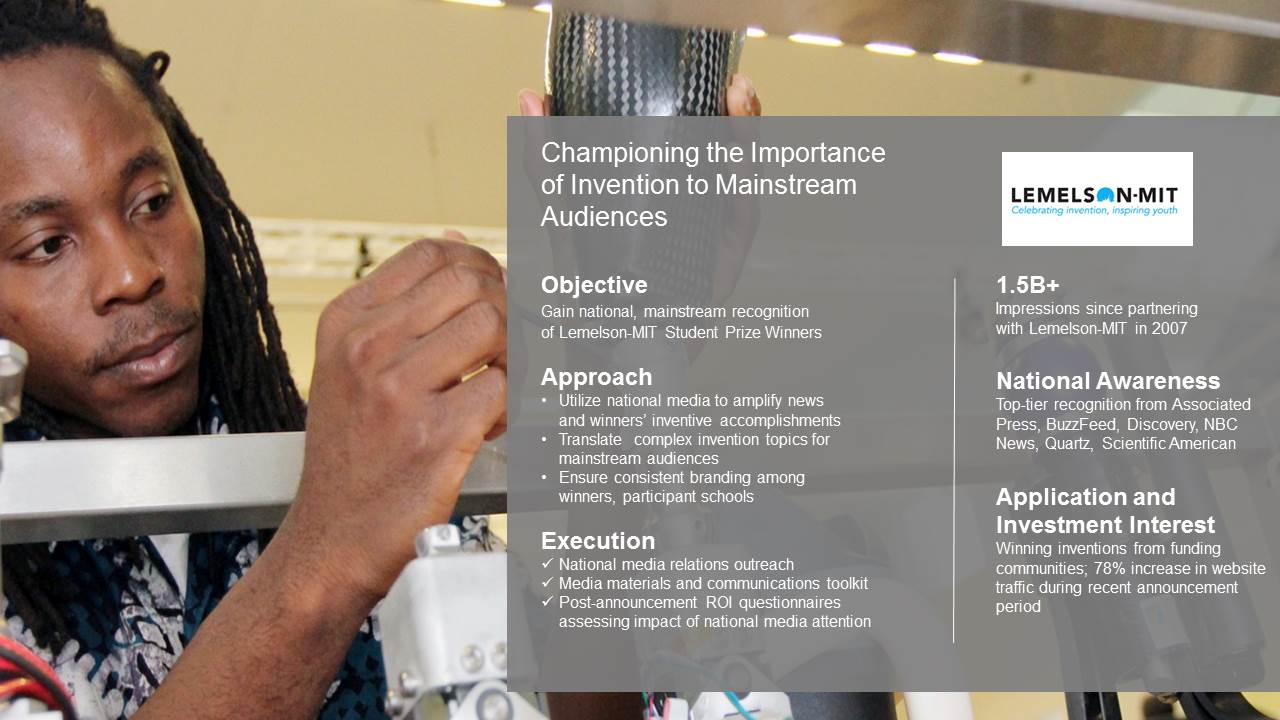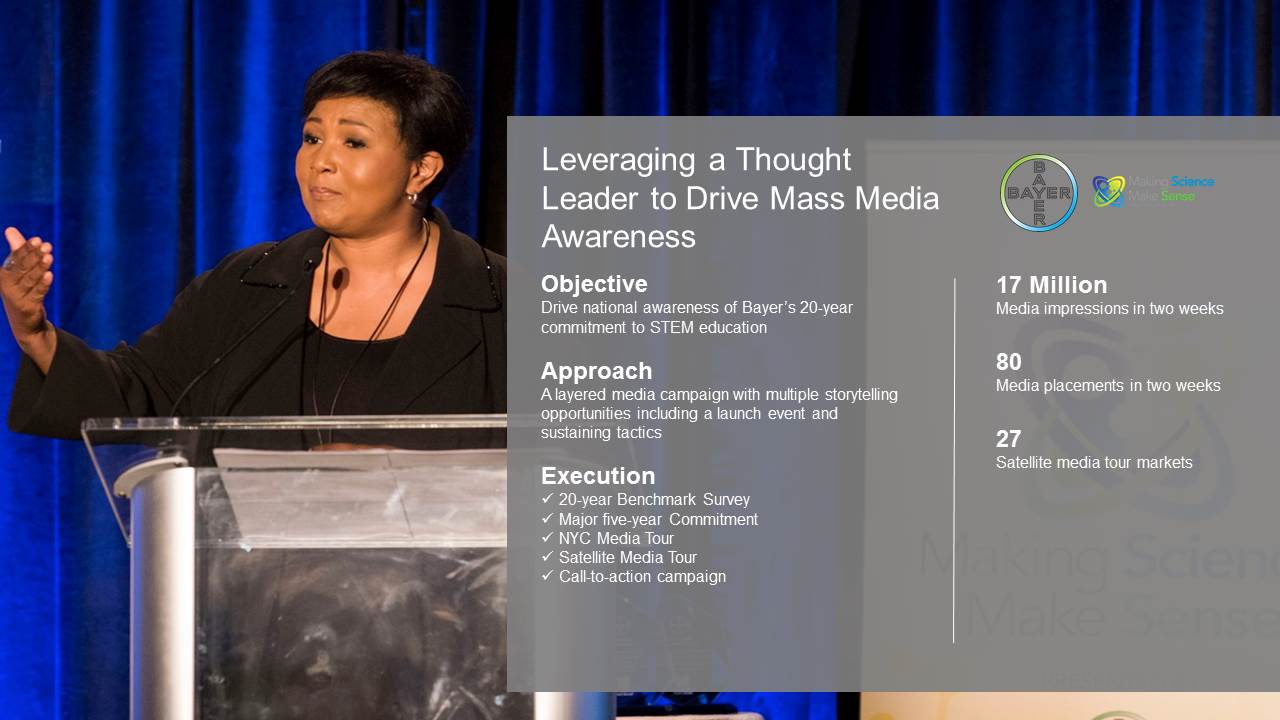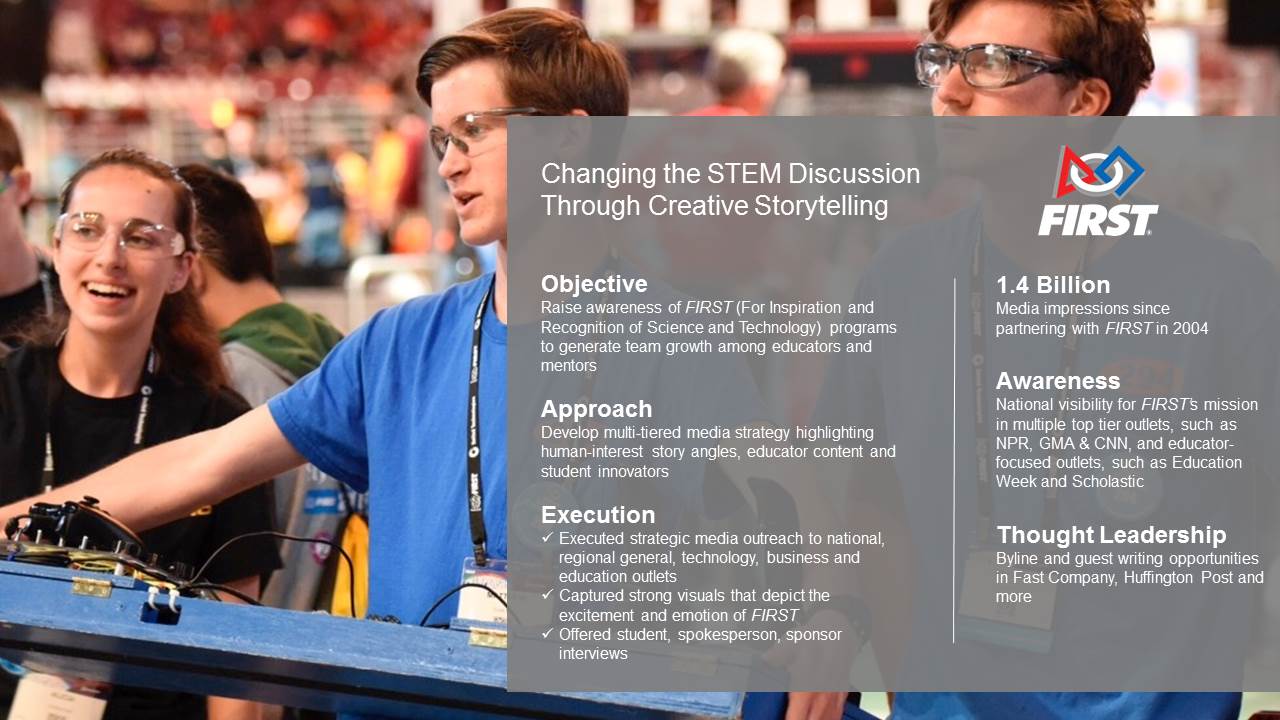 Aaron Pickering
Aaron has led the development and execution of integrated public relations programs for companies and NGOs around issues related to STEM education, financial literacy and college preparedness. He serves as account lead for inventor Dean Kamen's nonprofit, FIRST, which inspires K-12 students to pursue STEM careers through robotics. Aaron's passion for education extends beyond Cone – he is also an Adjunct Associate Professor for the George Washington University in DC.
Chrissy Redmond
Chrissy has been tracking trends and leading communications strategy for many of Cone's STEM and invention education clients for nearly ten years. She leads thought leadership and media relations strategy for LEGO Education and managed communications for Lemelson-MIT's invention education program, celebrating the stories and impact of young scientists and engineers. Chrissy and her team also recently partnered with STEM education nonprofit i2 Learning, gaining national and regional recognition of the first-ever, week-long Boston STEM Week.
Sarah Faith
For nearly ten years, Sarah has helped educational institutions, NGOs and companies develop integrated communications programs that support community-building efforts and initiatives in the arts and STEM. Sarah leads the Bayer U.S. account supporting Making Science Make Sense®, Bayer's national, presidential award-winning STEM education initiative, and its commitment to provide one million hands-on science learning experiences for children by 2020. Sarah drives the national media strategy for the program, leveraging program Chief Ambassador and former astronaut Dr. Mae C. Jemison. Additionally, she and her team are at the helm of annual research tied to hands-on science education and work closely with the parenting and educator influencer communities.
Molly Owen
Molly brings more than 7 years of expertise to the agency with a strong background in and passion for cause-driven communications and STEM education. She manages the development and activation of communications programming for LEGO Education, Bayer's Making Science Make Sense program, i2 Learning's STEM Week and Positive Tracks' Sweat for Good Summit. Molly consistently delivers industry recognition and top-tier national placements for her clients, which include The Associated Press, Fast Company, Forbes, TIME, NBC News, The Washington Post, among others.
Jamie Berman
Jamie is passionate about STEM, cause and corporate communications, having worked on a number of education and science projects throughout her career. She has a knack for writing and developing meaningful relationships with key media and influencers, and she is also experienced in event strategy and execution, content development, thought leadership positioning, social media planning and spokesperson programs.